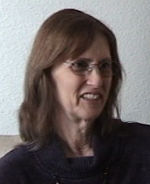 OLIVIA WHITAKER DRESHER is a writer, publisher and editor, anthologist, former musician, and an advocate for historic preservation. She was born in Washington D.C. on May 13, 1945. Her father, Melvin Dresher, was a mathematician, and her mother, Martha Whitaker Dresher, a peace activist. Her brother, composer and performer Paul Dresher, was born in 1951.
Dresher was raised in Los Angeles, where she studied piano and cello and played in orchestras; she also played the cello in an episode for a television series. In the 1960s she began to publish her poetry in literary journals and anthologies, and in the 1970s she began to teach and perform music, especially the cello and guitar, and she also wrote her own songs. She lived in Oregon for several years prior to moving to Seattle in 1981. She received her B.A. in English from the University of Washington in 1985, and worked at the university until 1990.
In 1994, after restoring her 1918 Craftsman bungalow, she received a first place award for interior restoration from the National Trust for Historic Preservation. Photos and articles about the Dresher house have been published in numerous books and magazines, and her house has been featured on many tours, including a tour presented on the Discovery Channel.
Since the 1990s, Dresher's focus has been fragmentary writing as a literary genre, especially diaries and notebooks. In 1998 she founded the Diaries, Journals, and Notebooks Collection for the library at Richard Hugo House literary center in Seattle; the first three years of Hugo House's existence she worked as a library volunteer and curator of the collection she founded. At home she has a large personal library of published and unpublished journals and diaries, as well as collections of published aphorisms, letters, and miscellaneous fragmentary writings. Dresher has been a journal writer since the age of 10, and has preserved over 100 volumes of her journal-notebooks. Fragments from her journals have been published in various magazines and anthologies, and she has spoken about journals and diaries on Public Radio. In 2006, her journal from 1984 was used in the plot of an independent film.
Currently Dresher is involved with three publishing projects: IMPASSIO PRESS, an independent literary press that publishes a wide variety of fragmentary writing and a mix of genres (she is Impassio's founder, publisher, and editor); the LIFE WRITING CONNECTION, a resource that publishes an online, annotated directory of unpublished American life writings from the 20th century (she is LWC's co-founder, director, and editor); and she is the founder and editor of FRAGLIT MAGAZINE, an online literary journal of fragmentary writing and various short forms sponsored by Impassio Press.
Her published books include a poetry chapbook, A Candle in the Ice (1974) (published under the name Olivia Clark); Darkness and Light: Private Writing as Art (2000) (an anthology of contemporary journals, diaries, and notebooks that she co-edited with philosopher Victor Muñoz); and In Pieces: An Anthology of Fragmentary Writing (2006). She is currently at work on several books based on her notebook writings: "Instead of Sleep" (fragments) and "A Silence of Words" (aphorisms).
Dresher's additional interests include philosophy; psychology; walking and observing; geology (earthquakes); genealogy; politics and history; photography; foreign films; natural foods and the humane treatment of animals (she has been a vegetarian since her early 20s); the environment; and alternative transportation (since 1994 she has not owned or driven gas-powered cars, and currently owns and drives a Zenn neighborhood electric vehicle).